The solar industry is constantly evolving through technological development, and the efficiency of panels has increased significantly over recent years, much to the benefit of the consumer. The standard panel used to be 250 Watts per panel (kWp) around four years ago, but a panel of approximately the same dimensions is now 330 Watts; so, the efficiency and generation output has leapt by around 32% in only a few years.
The average cost per Watt has simultaneously decreased as global investment in Photovoltaics as a source of clean energy in both residential and commercial sectors has soared. Consequently, the volume of Solar PV is being manufactured on a far greater scale, and manufacturing technology has also evolved; both of which ultimately benefit the consumer.
Although panel development is an ongoing process, more recently the gains in panel efficiency have slowed as peak efficiency has plateaued, but other innovations such as split cell modules have been introduced to make overall performance more effective.
More recently industry effort has been focussed on optimising the efficiency and cost of battery solutions in order to maximise the return on investment in Solar for the consumer by being able to store daytime generated. Lithium-ion solutions are the front runner in this field, having replaced convention lead-acid and Gel batteries, and there are now a range of manufacturers producing range of battery options.
Between the optimised Solar panel performance, and the development of more efficient and cost-effective battery solutions, there is no better time to invest in Solar for your home or commercial operation than right now.
There are literally dozens of Solar panel manufacturers in the world now, but it is important to remember that while Panels may all look similar, their efficiency, performance, and longevity can vary greatly. As with any industry there are varying standards of quality, but this is a long-term investment, so dollars saved up front may cost far more in the long run in the case of a premature failure or inadequate warranty support.
Although the standard performance warranty period for the industry is 25 years, the useful working lifetime of a solar panel is expected to be up to 40 years. For this reason, we believe that it is vital to use only highest quality product from respected and long-established manufacturers. This assures optimum performance and minimises the chance of any product performance issues; and in the rare event that something unexpected does occur, then we can also rely on the manufacturer honouring the warranty terms promptly.
Our preferred brands are Trina Solar & Jinko which are Tier 1, and among the largest Solar manufacturers in the industry with a proven track record and a culture of continual technological improvement.
330W modules are the current panel size available and are what we specify in most cases, but in a commercial setting the larger 440W modules may also be more appropriate. However, the technology and efficiency of the modules is ever increasing so the panel kWp rating increases frequently, so the module sizes may increase depending on latest release technology available.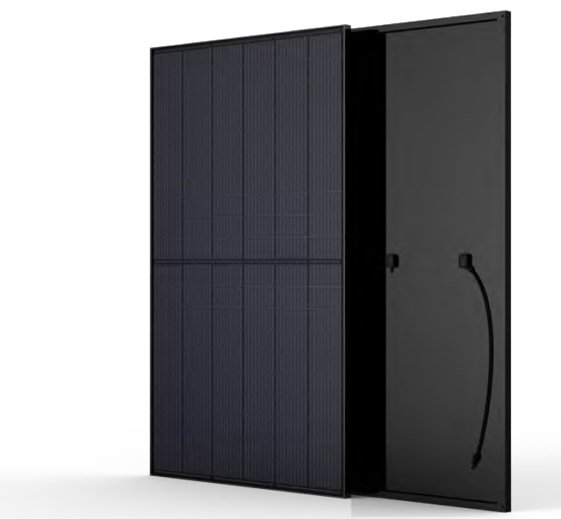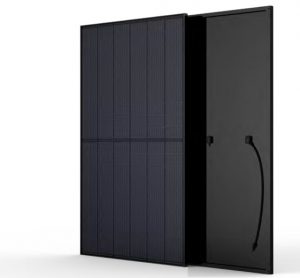 As well as improving performance efficiency, manufacturers have recognised that consumers prefer a panel that not only performs well, but also looks attractive on the roof. Initially most panels had bare aluminium frames and white backing sheets, and were quite a stark feature on a roof space. However, most manufacturers are now producing completely black panels, with black aluminium frames, and black backing sheets that blend in with the dark solar cells themselves – these are now our standard panel type.
To complement this, we also use black clamps and mounting rails to present a more visually integrated solar array overall that will blend into the roof aspect – particularly on a dark coloured roof.